WE NEED EDUCATION NOT JUST MEDICATION AND OPERATIONS.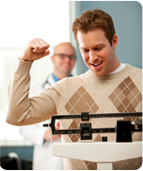 My mission is to educate and guide you to wellness. The way we eat has changed more in the last 50 years than it has in the last 10,000. Over the last 50 years rates of high blood pressure, heart disease, cancer, diabetes, nerve diseases, autism and autoimmune diseases has skyrocketed. The US is getting sicker, not healthier. Clearly something is wrong. Clearly there needs to be a change.
We are what we
eat. Our health is our choice.
I have assisted hundreds of people like you over the past 15 years to achieve a healthy lifestyle. I will work with your doctor if necessary. An approach to wellness will treat the cause not just the symptom. This can allow the body to achieve a healthy state and is the only way true wellness can be maintained.
Shocking but real, Western medicine has chosen profit, at the expense of the health and wellness of Americans.
Taking responsibility for your wellness is the only way out.
Are you serious
and ready to take action??